Radharani

Krishna

Caitanya

God

God's Holy Names

Krishna Consciousness Movement

Who Is Srila Prabhupada

his Timeline

Months in his Life

Training his Disciples

Questions

Bhagavad-gita

Devotees of God

Devotional Service to God

Discipleship

Guru / Acharya

Essential Subjects

Nectar Drops

What's in Vanipedia now

Glorious Personalities

Yoga

Collaborate with us to invoke and fully manifest Srila Prabhupada's Vani-presence.
---
ID/BG 3.27
From Vanipedia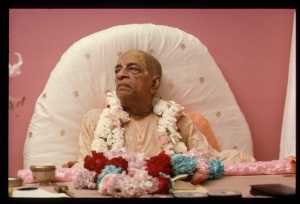 ŚLOKA 27
प्रकृतेः क्रियमाणानि गुणैः कर्माणि सर्वशः ।
अहङ्कारविमूढात्मा कर्ताहमिति मन्यते ॥२७॥
prakṛteḥ kriyamāṇāni
guṇaiḥ karmaṇi sarvaśaḥ
ahańkāra-vimūḍhātmā
kartāham iti manyate
Sinonim
prakṛteḥ—dari alam material; kriyamāṇāni—dengan dilakukan; guṇaiḥ—oleh sifat-sifat; karmaṇi—kegiatan; sarvāsaḥ—segala jenis; ahańkāra-vimūḍha—dibingungkan oleh keakuan palsu; ātmā—sang roh; kartā—pelaku; aham—aku; iti—demikian; manyate—dia berpikir.
Terjemahan
Sang roh yang dibingungkan oleh pengaruh keakuan palsu menganggap dirinya pelaku kegiatan yang sebenarnya dilakukan oleh tiga sifat alam material.
Penjelasan
Ada dua orang, yang satu sadar akan Kṛṣṇa dan yang lain dalam kesadaran material. Barangkali kelihatannya dua orang tersebut bekerja pada tingkat yang sama, tetapi kedudukan mereka masing-masing jauh berbeda. Orang yang kesadarannya duniawi diyakinkan oleh keakuan yang palsu bahwa dirinya melakukan segala sesuatu. Dia tidak mengetahui bahwa mesin badan dihasilkan oleh alam material, yang bekerja di bawah pengawasan Tuhan Yang Maha Esa. Orang duniawi tidak mempunyai pengetahuan bahwa pada hakekatnya dirinya dikendalikan oleh Kṛṣṇa. Orang di bawah pengaruh keakuan yang palsu menerima segala pujian karena dirinya telah melakukan segala sesuatu secara tersendiri, dan itulah gejala kebodohannya. Dia tidak mengetahui bahwa badan kasar dan badan halus ini diciptakan oleh alam material, di bawah perintah Kepribadian Tuhan Yang Maha Esa, dan karena itu kegiatan jiwa dan raganya hendaknya dijadikan tekun dalam bhakti kepada Kṛṣṇa, dalam kesadaran Kṛṣṇa. Orang bodoh lupa bahwa Kepribadian Tuhan Yang Maha Esa bernama Hṛṣīkeśa, atau Penguasa indria-indria badan jasmani. Dia lupa karena sudah lama menyalah-gunakan indria-indrianya untuk kepuasan indria-indria, sehingga ia sungguh-sungguh dibingungkan oleh keakuan yang palsu, yang menyebabkan ia melupakan hubungannya yang kekal dengan Kṛṣṇa.