SL/Vanipedia's Manifesto
From Vanipedia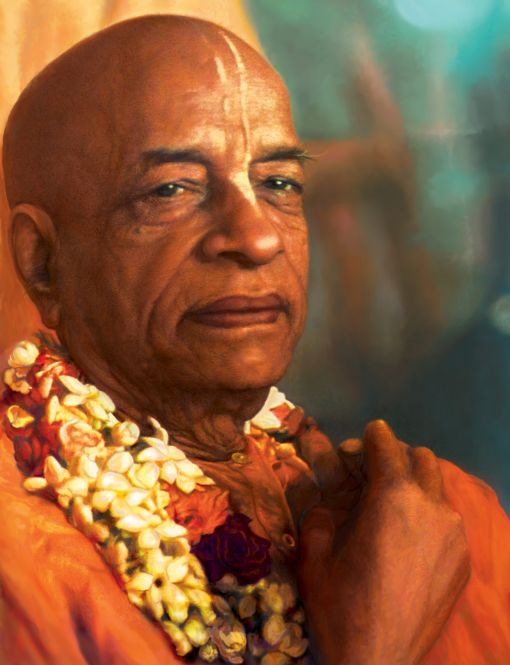 Uvod
Šrila Prabhupada je oznanjal pomen svojih naukov, Vanipedia pa je zgrajena iz njegovih naukov iz knjig, posnetih lekcij in pogovorov, pisem,... Ko bo dokončana bo Vanipedia prvi Vani-tempelj na svetu, ki bo ponujal mesto, kjer bo več milijonov ljudi iskalo avtentično duhovno vodstvo in našlo odgovore ter inspiracijo iz naukov Šrila Prabhupade predstavljenih v čim več jezikih.
Vizija Vanipedije
Sodelujemo, da predstavimo Šrila Prabhupadove nauke, tako da omogočimo večim milijonom ljudem, da spoznajo znanost o zavesti Krišne in da asistiramo Gospodu Caitanya Mahaprabhuju in Njegovemu sankirtan gibanju z namenom, da se prebudi duhovnost v svetu.
Sodelovanje
Ustvarjanje enciklopedije Šrila Prabhupadovih naukov je možno samo z množičnim sodelovanjem bhakt, ki vestno in predano prevajajo Njegove lekcije.
Želimo dokončati prevode vseh Šrila Prabhupadovih knjig, lekcij, pogovorov, pisem v vsaj 16 jezikih in da bo imelo 108 jezikov vsaj nekaj prevodov do Novembra 2027.
Z oktobrom 2017 je bila celotna Biblija prevedena v 670 jezikov, Nova zaveza je bila prevedena v 1521 jezikov in zgodbe iz Biblije so bile prevedene v 1121 drugih jezikov. Ta statističen podatek kaže, da naš cilj, ki je bistvenega pomena razširanja Šrila Prabhupadovih naukov, v primerjavi z Kristjani ni dovolj ambiciozen.
Vabimo vse bhakte, da se nam pridružijo v tem procesu citiranja Šrila Prabhupadovih naukov na Vanipediji za dobrobit vsega človeštva.
Klic
Leta 1965 je Šrila Prabhupada nepovabljen prišel v Ameriko. Čeprav se je njegovo vplivno življenje končalo leta 1977, še vedno obstaja v svojih besedah in teh besed se moramo vedno spominjati. Samo z iskrenim klicem za Šrila Prabhupado se bo On pojavil. Naša želja, da je tukaj z nami, je ključna, da opravljamo svoje delo.
Želja po prisotnosti Šrila Prabhupade
Ne želimo samo delno prisotnost Šrila Prabhupade. Želimo Njegovo popolno prisotnost skozi Njegove besede. Njegove posnete lekcije bi morale biti prevedene v čim več jezikov. To je naša daritev prihodnjim generacijam tega planeta - popolno zavetje (ashraya) Šrila Prabhupadovih naukov.
Prisotnost Šrila Prabhupada
Šrila Prabhupadova popolna prisotnost se bo pojavila v 2 fazah. 1. faza - in tudi lahka faza - je, da se zbere in prevede vse Šrila Prabhupadove nauke v vse jezike. 2. faza - in tudi malce bolj težja - pa je, da bodo ljudje živeli po naukih Šrila Prabhupada.
Različni načini proučevanja
Do današnjega dne, smo v naši raziskavi ugotovili, da je 60 različnih načinov za branje Šrila Prabhupadovih knjig, ki jih je Šrila Prabhupada predal svojim učencem.
S poglabljanjem v Šrila Prabhupadove knjige z različnimi načini jih lahko pravilno razumemo. Ko uporabljamo te načine branja se zlahka poistovetimo z globokim pomenom vsake besede, fraze, koncepta ali z osebnostjo Šrila Prabhupade. Njegovi nauki in knjige so brez dvoma naše življenje ter duša in ko jih temeljito beremo lahko občutimo in izskusimo Šrila Prabhupadovo prisotnost na več načinov.
Deset milijonov Acaryev
Recimo, da jih je zdaj 10 000. Razširili se bomo na 100 000. To je potrebno. Potem iz sto tisoč na milijon, in iz milijona na deset milijonov. Tako ne bo pomanjkanja acharyev in ljudje bodo zlahka razumeli zavest Krišne. Ustvarite to skupnost. Ne bodite ponosni. Ponižno sledite navodilom acharye in se poskušajte izpopolniti. Potem boste zlahka premagali mayo. Acharye razglasujejo vojno proti mayi. – Srila Prabhupada Lecture on Sri Caitanya-caritamrta, 6 April 1975
Komentar
Ta izjava vizije Šrila Prabhupada govori sama zase - popoln načrt, da bodo ljudje zlahka razumeli zavest Krišne. 10 milijonov opolnomočenih šikša-učencev Šrila Prabhupade ponižno sledijo navodila našega Founder-acharya in se vedno trudijo za popolnost. Šrila Prabhupada jasno pravi "Ustvarite to skupnost." Vanipedia entuziastično dela na izpolnitvi te vizije.
Znanost o zavesti Krišne
V devetem poglavju Bhagavad-gite je znanost o zavesti Krišne poimenovana za kralja vsega znanja ter zaupnih stvari in za vrhovno znanost transcendentalne realizacije. Zavest Krišne je transcendentalna znanost, ki se razkrije iskrenemu bhakti, ki je pripravljen služiti Bogu. Zavest Krišne ni vera kot hinduizem, krščanstvo, budizem ali islamska vera, ampak je znanost. Če temeljito beremo Šrila Prabhupadove knjige bomo razumeli, da je zavest Krišne popolna znanost ter bomo tako navdihnjeni, da bomo to znanje delili med druge ljudi za dobrobit vsega človeštva.
Sankirtan gibanje Gospoda Caitanye
Gospod Šri Caitanya Mahaprabhu je oče sankirtan gibanja. Kdorkoli Ga časti tako, da žrtvuje svoje življenje, denar, inteligenco in besede za gibanje sankirtana z Njegove strani prejme pozornost in blagoslove. Za vse druge se lahko reče, da izgubljajo čas, ker najbolj veličastno je žrtvovanje za gibanje sankirtana. Celotno gibanje za zavest Krišne je bazirano na principih gibanja sankirtana, katerega ustanovitelj je Gospod Caitanya Mahaprabhu. Nekdo, ki poskuša razumeti Vsevišnjo Božansko Osebnost skozi gibanje sankirtana, se vsega zaveda popolno. Tak je sumedhas, oseba z pravo inteligenco.
Poduhovljenje človeštva
Človeška družba trenutno ni v temačnem obdobju. Dosegla je hiter napredek na področju materialnih užitkov, izobrazbe in ekonomije po celem svetu. Vendar so še vedno prisotna huda nesoglasja glede nekaterih stvari, tudi tistih, ki se nam ne zdijo tako pomembni. Rabimo namig kako lahko človeška družba postane eno v miru, prijateljstvu, in uspehu. Šrimad Bhagavatam zapolnjuje to potrebo, zaradi njegove predstave o poduhovljenju človeštva. Na splošno so ljudje, pripomočki v rokah politikov in vladarjev sveta. Če se bo zgodila sprememba v srcu vladarjev, se bo zagotovo spremenila tudi atmosfera celega sveta. Pravi cilj izobrazbe je samorealizacija, realizacija duhovnih vrednot duše. Vsak bi moral pomagati pri širjenju duhovnosti po svetu. S temi aktivnostmi, se delo in tisti, ki to delo opravlja napolnita z duhovnostjo in s tem se preseže gune materialne narave.
Misije Vanipedije
Da ponudimo Šrila Prabhupadu podlago, s katero bo lahko prenašal znanje o zavesti Krišne v vseh jezikih.
Da raziščemo, najdemo in skupaj sestavimo Šrila Prabhupadove nauke z več zornih kotov.
Da se predstavi Šrila Prabhupadove besede na lahko dostopne in razumljive načine.
Da ponudimo zbirko obsežnih tematskih lekcij, ki bodo olajšale pisanje številnih aktualnih knjig, ki temeljijo na Šrila Prabhupadovih besedah.
Da ponudimo vir znanja za različne izobraževalne besede Šrila Prabhupada.
Da bi prenesli med iskrene sledilce Šrila Prabhupade nedvoumno razumevanje potrebe po proučevanju Šrila Prabhupadovih besed za osebno rast in da se naučimo predstavljati njegove besede na vseh nivojih zavesti.
Da privabimo Šrila Prabhupadove privržence z vseh držav, z namenom, da sodelujo med seboj ter dosežejo vse zgoraj navedene cilje.
Kaj nas motivira, da ustvarjamo Vanipedijo?
Šrila Prabhupad je čisti bhakta, opolnomočen s strani Gospoda Krišne, da vključi živa bitja v predano služenje Bogu. To opolnomočenje je dokazano v njegovi neprimerljivi predstavi Absolutne resnice, ki jo najdemo v njegovih knjigah.
Ni bilo boljše predstave Vaišnavske filozofije v tem času in ni bilo večjega družbenega kritika, ki bi opisal ta sodobni svet KAKRŠEN JE, kot Šrila Prabhupada.
Šrila Prabhupadovi nauki bodo osnovno zavetje Njegovih privržencev prihodnje generacije.
Šrila Prabhupad je želel, da bi bili Njegovi nauki množično razširjeni in da bi jih ljudje razumeli.
Tematski pristop k učenjem Šrila Prabhupade okrepi proces razumevanja resnice, ki veje iz njih. Prav tako imajo veliko vrednost, ki se kaže skozi raziskovanje, odkrivanje in temeljito poglabljanje v njegova učenja iz vseh zornih kotov.
Prevajanje vseh Šrila Prabhupadovih naukov v določen jezik je isto, kot da bi povabili Šrila Prabhupada, da bi On večno živel v Svojih besedah tega jezika.
V njegovi fizični odsotnosti Šrila Prabhupada potrebuje veliko bhakt Vanipedije, da mu pomagajo pri uresničevanju njegove misije.
Predani smo temu, da ustvarimo podlago za olajšano širjenje in razumevanje tega znanja, ki ga najdemo v naukih Šrila Prabhupada. To je naš namen. Edino kar nas še loči do cilja je čas in ure, ki jih bodo bhakte posvetili za dosego te vizije.
Zahvaljujem se vam, vsem vam, da cenite moje ponižno služenje, ki ga poskušam izvesti po naročilu mojega Guru Maharaja. Naprošam vse moje učence naj med seboj sodelujejo in prepričan sem, da bomo napredovali - o tem nimam dvomov. – Srila Prabhupada Letter to Tamala Krishna das (GBC) - 14 August, 1971
Tri naravne pozicije Šrila Prabhupada
Zavetje Šrila Prabhupadovih lotosovih stopal lahko dobimo, ko v svojem srcu realiziramo vse 3 Njegove pozicije.
Šrila Prabhupada je naš glavni šikša guru
Verjamemo, da lahko skozi nauke vsi izkusijo Šrila Prabhupadove energije in da lahko prevzamejo zavetje pri njih - če jih individualno proučujejo ali se o njih pogovorjajo z drugimi.
Sami sebe očistimo in vzpostavimo čvrst odnos s Šrila Prabhupadom, ko se naučimo živeti po njegovih navodilih.
Spodbujamo bhakte, ki se počutijo ločene od Šrila Prabhupada, da naj si vzamejo čas in se povežejo z njim na Vanipediji.
Širimo Njegovo sočutje s vsemi, tudi s tistimi, ki so prejeli iniciacijo od Njega in do drugih.
Poučujemo bhakte o Šrila Prabhupadovi poziciji kot našem večnem šikša guruju in o našem sisya odnosu z Njim.
Ustanovljamo zvezo šikša opolnomočenih učencev Šrila Prabhupada, da bi prenesli Njegovo zapuščino do prihodnjih generacij.
Šrila Prabhupada je Founder-Acharya ISKCON-a
Njegove besede promoviramo kot gonilno silo, ki člane ISKCON-a še naprej povezuje in jih ohranja zveste Njegovi zapuščini. Z inspiracijo in predanostjo želimo ustvariti Njegovo gibanje takšno kakršnega si je želel - zdaj in tudi v prihodnosti.
Spodbujamo razvoj Vaišnavskih standardov, ki so bazirani na Šrila Prabhupadovih naukih in na Njegovem načinu pridiganja.
Poučujemo bhakte o poziciji Šrila Prabhupada kot Founder-Acharya ISKCON-a in služenju Njemu in Njegovemu gibanju.
Šrila Prabhupada je svetovni Acharya
Povečujemo globalno zavedanje o pomenu Šrila Prabhupadovega duhovnega statusa kot svetovnega Acharye s tem, ko širimo Njegove nauke v vse države.
Ustvarjamo spoštovanje in cenimo Njegove nauke, ki imajo za posledico aktivno udeležbo svetovne populacije v zavesti Krišne.
Zavedamo se, da je Šrila Prabhupada zgradil hišo v kateri lahko živi cel svet, mi pa želimo z Vanipedio postaviti streho - zatočišče, ashraya - ki bo ščitila njegovo hišo.
Pomembne točke za ohranjanje Šrila Prabhupadovega naravnega položaja
ISKCON potrebuje izučene ljudi, politične direktive in kulturo ljudi, ki bi ohranjala Šrila Prabhupadov naravni položaj znotraj gibanja in Njegovih privržencev. To se ne bo zgodilo avtomatično ali z željo po tem. To lahko ustvarimo samo z inteligenco in skupnim prizadevanjem srčnih bhakt.
5 ovir, ki prikrivajo Šrila Prabhupadovo naravno pozicijo v Njegovem gibanju:
1. se ne zavedamo Šrila Prabhupadovih naukov – dal je navodila ampak se ne zavedamo, da obstajajo.
2. ignoriramo Šrila Prabhupadove nauke – poznamo pravila ampak se ne zmenimo za njih.
3. narobe razumemo Šrila Prabhupadove nauke – iskreno jih živimo, ampak jih zaradi prevelike samozavesti ali pomanjkanja zrelosti, živimo napačno.
4. pomanjkanje vere v Šrila Prabhupadove nauke – globoko v sebi nismo popolnoma prepričani glede njih in mislimo, da niso realni ali praktični za sodobni svet.
5. tekmujemo s Šrila Prabhupadovimi nauki – s popolnim prepričanjem in navdušenjem delamo nekaj popolnoma drugega, kot tisto, kar je Šrila Prabhupada naročil, in s tem vplivamo na druge, da to počnejo z nami.
Komentar
Verjamemo, da je te ovire mogoče zlahka premagati z uvedbo celovitih, strukturiranih izobraževalnih programov in programov usposabljanja, katerih cilj je negovanje našega odnosa in v povečevanju našega znanja o Šrila Prabhupadovih naukih. To pa bo uspelo le, če bo podprto z resno vodilno zavzetostjo, da bo ustvarila kulturo, ki bo globoko zakoreninjena v Šrila Prabhupadovih besedah. Šrila Prabhupadov naravni položaj bo tako samodejno postal in ostal očiten vsem generacijam bhakt.
Bhakte so roke in noge Šrila Prabhupada, ISKCON je Njegovo telo, in Njegove besede so Njegova duša
Komentar
Mi smo udi Šrila Prabhupada. Da bomo uspešno sodelovali z Njim moramo najprej biti združeni v zavesti z Njim. To se razvije, ko smo popolnoma absorbirani, prepričani in ko prakticiramo Njegove besede. Naša celostna strategija uspeha je, da vsi osvojijo Šrila Prabhupadove nauke in jih pogumno postavijo v središče vsega, kar počnemo za njegovo gibanje zavesti Krišne. Na ta način lahko Šrila Prabhupadovi bhakte uspejo osebno in v svojih službah naredijo ISKCON trdno telo, ki lahko izpolni Šrila Prabhupadovo željo, da bi rešil svet pred popolno katastrofo. Bhakte zmagajo, GBC zmaga, ISKCON zmaga, svet zmaga, Šrila Prabhupada zmaga in Gospod Caitanya zmaga. Poražencev ne bo.
Deljenje naukov Parampare
1486 Pojavitev Caitanye Mahaprabhuja z namenom, da bi svet poučil o zavesti Krišne - 533 let nazaj
1488 Pojavitev Sanatana Goswamija z namenom, da napiše knjige o zavesti Krišne – 531 let nazaj
1489 Pojavitev Rupe Gosvamija z namenom, da napiše knjige o zavesti Krišne – 530 let nazaj
1495 Pojavitev Raghunatha Gosvamija z namenom, da napiše knjige o zavesti Krišne – 524 let nazaj
1500 Mehanski tiskarski stroji začenjajo revolucionirati distribucijo knjig po vsej Evropi – 519 let nazaj
1513 Pojavitev Jive Gosvamija z namenom, da napiše knjige o zavesti Krišne – 506 let nazaj
1834 Pojavitev Bhaktivinoda Thakurja z namenom, da napiše knjige o zavesti Krišne – 185 let nazaj
1874 Pojavitev Bhaktisiddhanta Sarasvatija z namenom, da napiše knjige o zavesti Krišne – 145 let nazaj
1896 Pojavitev Šrila Prabhupada z namenom, da napiše knjige o zavesti Krišne – 123 let nazaj
1914 Bhaktisiddhanta Sarasvati ustvari frazo "brhat-mrdanga" – 105 let nazaj
1922 Šrila Prabhupada spozna Bhaktisiddhanto Sarasvatija in je zaprošen, da predava v angleščini - 97 let nazaj
1935 Šrila Prabhupada prejme navodilo, da naj tiska knjige – 84 let nazaj
1944 Šrila Prabhupada začne z izdajanjem revije Back to Godhead – 75 let nazaj
1956 Šrila Prabhupada se preseli v Vrindavan, da bi pisal knjige – 63 let nazaj
1962 Šrila Prabhupada izda prvi volumen Šrimad Bhagavatama – 57 let nazaj
1965 Šrila Prabhupada prispe na Zahod, da deli knjige - 54 let nazaj
1968 Šrila Prabhupada izda skrajšano verzijo Bhagavad Gite Kakršna je – 52 let nazaj
1972 Šrila Prabhupada izda celotno Bhagavad Gito Kakršna je – 47 let nazaj
1972 Šrila Prabhupada ustanovi BBT za izdajanje Njegovih knjig – 47 let nazaj
1974 Šrila Prabhupadovi učenci začnejo z deljenjem knjig – 45 let nazaj
1975 Šrila Prabhupada izda Caitanya-caritamrito – 44 let nazaj
1977 Šrila Prabhupada zapusti telo in prepusti Njegove besede v naše roke – 42 let nazaj
1978 Ustanovitev Bhaktivedanta Arhivov – 41 let nazaj
1986 Vsak na svetu ima povprečno 1CD na katerem so shranjeni digitalni podatki. – 33 let nazaj
1991 Ustanovitev Svetovnega spleta (brhat-brhat-brhat mrdanga) – 28 let nazaj
1992 Bhaktivedanta VedaBase verzija 1.0 je ustvarjenja – 27 let nazaj
2002 Digitalna doba - digitalne naprave nadomestijo analogne naprave – 17 let nazaj
2007 Vsak ima povprečno 61 CD-jev, to pomeni 427 bilijonov CD-jev na celem svetu – 12 let nazaj
2007 Šrila Prabhupadov Vani-tempel, Vanipedia se začne oblikovati – 12 let nazaj
2010 Šrila Prabhupadov Vapu-tempel, Tempel vedskega planetarija se začne graditi v Sridhama Mayapurju – 9 let nazaj
2012 Vanipedia doseže 1,906,753 citatov, 108,971 strani in 13,946 kategorij – 7 let nazaj
2013 500,000,000 Šrila Prabhupadovih knjig je bilo podeljenih s strani bhakt v 48 letih - v povprečju 28,538 knjig vsak dan - 6 let nazaj
2019 21. marca, Gaura Purnima ob 7.15 čas centralne Evrope, Vanipedia praznuje 11 let sodelovanja med bhaktami in njihovega truda, da razširijo Prabhupadove besede. Vanipedia sedaj ponuja 45.588 kategorij, 282,297 strani, 2,100,000 citatov navedenih v 93 jezikih. To je bilo doseženo s pomočjo 1220 bhakt, ki so za vanisevo, žrtvovali 295,000 ur. Čaka nas še dolga pot, da v celoti zgradimo Vani-tempelj Šrila Prabhupada tako, da vabimo bhakte, da se nam pridružijo v tej veličastni misiji.
Komentar
Razvijanje misije Caitanye Mahaprabhuja pod okriljem današnjega gibanja za zavest Krišne v današnjem sodobnem svetu, je zagotovo najboljši čas za predano služenje.
Šrila Prabhupada Founder acharya gibanja za zavesti Krišne je na ta svet prinesel znanje, ki lahko spreminja življenja skozi njegove povzetke poglavij knjig, lekcij, pogovorov in pisem. V tem prebiva ključ do razširitve duhovnosti po svetu.
Vani, osebno druženje in služenje v odostnosti - Citati
V Njegovi fizični odsotnosti je Vaniseva (služenje njegovih besed, navodil) še bolj pomembna. Moj duhovni učitelj, Sarasvati Gosvami Thakura, je fizično odsoten, ampak ker poskušam upoštevati Njegova navodila se nikoli ne počutim ločen od Njega. Pričakujem, da boste vsi vi upoštevali ta navodila. – Srila Prabhupada Letter to Karandhara das (GBC), 22 August 1970
Od vsega začetka sem močno nasprotoval impersonalizmu in vse moje knjigo to izpostavljajo. Tako moje ustno izročilo kot tudi tudi moje knjige so vam na uslugo. In če se boste GBCji poslužili nasvetov le-teh, ne bomo imeli težav. Nevednost je tista, ki povzroči težave; tam kjer ni nevednosti, tudi ni težav."
– Srila Prabhupada Letter to Hayagriva das (GBC), 22 August 1970
Prosim bodite srečni v ločenosti. Ločen sem od Guru Maharaja od leta 1936 ampak sem vedno z Njim dokler sledim Njegovim navodilom. Vsi skupaj bi morali sodelovati, da zadovoljimo Gospoda Krišno in na ta način se bo ta občutek ločenosti transformiral v transcendentalno blaženost. – Srila Prabhupada Letter to Uddhava das (ISKCON Press), 3 May 1968
Komentar
Šrila Prabhupada razkrije številne resnice v teh izjavah.
Šrila Prabhupadovo osebno vodstvo je vedno prisotno.
Morali bi biti srečni, ko občutimo ločenost od Šrila Prabhupada.
V Šrila Prabhupadovi fizični odsotnosti je Vaniseva še bolj pomembna.
Šrila Prabhupada je imel zelo malo srečanj z Njegovim Guru Maharajem.
Šrila Prabhupadova ustna navodila in prav tako Njegove knjige so nam na razpolago.
Občutki ločenosti od Šrila Prabhupada se lahko transformirajo v transcendentalno blaženost.
Če sledimo Njegovim besedam, ko Šrila Prabhupada ni fizično prisoten, dobimo Njegovo pomoč.
Šrila Prabhupada nikoli ni zapustil bližine Bhaktisiddhanta, niti za trenutek.
S proučevanjem Njegovih navodil in knjig bomo razvili jasno in močno sliko Njegovega sporočila.
Ko bomo sledili Njegova navodila, se ne bomo nikoli počutili ločeni od Njega.
Šrila Prabhupada pričakuje od vseh Njegovih bhakt, da sledijo Njegova navodila, da postanejo opolnomočeni šikša učenci.
Uporabljanje medijev za razširjanje sporočila Krišne
Če lahko organizirate to, da jaz samo sedim v svoji sobi in da sem viden celem svetu in mu pridigam, potem ne bom nikoli zapustil Los Angelesa. To bo popolnost vašega templja v Los Angelesu. Zelo, zelo sem vesel glede vašega namena, da preplavite vse medije vaših držav z zavestjo Krišne ter vidim, da se to dejansko oblikuje in zaradi tega sem vedno bolj zadovoljen. - Srila Prabhupada Letter to Siddhesvar das and Krishnakanti das, 16 February 1972
Komentar
Ko je sledil stopinjam svojega Guru Maharaja je Šrila Prabhupada vedel kako vse vključiti v službo Krišne.
Šrila Prabhupada želi biti viden svetu in mu pridigati.
Šrila Prabhupada želi preplaviti medije z zavestjo Krišne.
Šrila Prabhupada želi, da se deli knjige preko novic in drugih sodobnih medijev.
Šrila Prabhupada je bil vesel, ko je slišal načrt, da bi se o njegovih učenjih napisala enciklopedija, ki bi bila razdeljena na različne tematike.
Šrila Prabhupada je rekel, da bi morali uporabiti vse vrste medijev za pridiganje.
Šrila Prabhupada je rekel, da smo Vaišnave sodobne dobe in da moramo uporabiti čim več sredstev za to.
Šrila Prabhupada je rekel, da lahko uporabimo vse - TV, radio, filme, ali karkoli je na razpolago samo, da povemo ljudem za Krišno.
Šrila Prabhupada je rekel, da lahko svetovni mediji postanejo zelo pomembna sredstva za širjenje zavesti Krišne.
Sodobna doba, sodobne priložnosti
Za Šrila Prabhupada, v 70-tih, je izraz sodobni mediji pomenil tiskarski stroj, radio, TV in filmska industrija. Po Njegovem odhodu iz telesa pa se je le ta tehnologija razvila vse do Android telefonov, E-knjig, videoigric, javnega oglaševanja, podcastov, spletnih strani, naprav na dotik, spletnih komunikacij in brezžičnih tehnologij.
S primerom Šrila Prabhupada že od leta 2007 uporabljamo sodobne medije za razširanje Njegovih besed.
Vanipedijin cilj je povečati prepoznavnost in dostopnost Šrila Prabhupadovih naukov na spletu in da s tem ponudi brezplačen, pristen vir znanja za:
• ISKCON pridigarje
• ISKCON voditelje,
• bhakte, ki proučujejo predano služenje,
• bhakte, ki želijo poglobiti svoje znanje,
• bhakte, ki so udeleženi v pogovorih z ljudmi drugih veroizpovedi
• razvijalce učnih načrtov,
• bhakte, ki čutijo ločenost od Šrila Prabhupada,
• vodstvene delavce,
• akademike,
• učitelje in učence, ki proučujejo religiozne teme,
• pisatelje,
• iskalce duhovnosti,
• ljudi, ki so zaskrbljeni glede družbenih problemov,
• zgodovinarje.
Komentar
Še vedno je potrebno veliko, da se Šrila Prabhupadove nauke razširi po svetu. Sodobna tehnologija nam ponuja možnost, da presežemo vse naše prejšnje uspehe.
Vaniseva – Sveta odločitev služenja Šrila Prabhudovih besed - Vani
Šrila Prabhupada je prenehal govoriti 14. novembra 1977, ampak besede, ki nam jih je zapustil za vedno ostajajo sveže in žive. Vendar ti nauki še niso v njihovem prvotnem stanju in tudi niso dostopni vsem bhaktam. Bhakte Šrila Prabhupada imajo sveto nalogo, da ohranijo in razširijo Njegove besede vsem. Tako, da vas vabimo, da začnete z opravljanjem vaniseve.
Vedno pomnite, da ste eni izmed redkih, ki sem jih izbral, da nadaljujete moje delo in misijo, tako da imate veliko odgovornost. Vedno molite h Krišni, da vam da moč, da dosežete cilj te misije. Moja naloga je, da vam dam pravo znanje in da vas vključim v predano služenje, tako da to ni težka naloga za vas, dal sem vam vse, berite knjige in pridigajte iz njih in veliko svetlobe bo prišlo na dan. Imamo zelo veliko knjig in če boste nadaljevali s pridiganjem iz njih naslednjih 1000 let, bo dovolj zaloge. – Srila Prabhupada Letter to Satsvarupa das (GBC), 16 June 1972
Junija 1972 je Šrila Prabhupad rekel: "Imamo toliko knjig, da lahko pridigamo še naslednjih 1,000 let." Ko je to rekel, je bilo natisnjenih 10 knjig, v naslednjih 5 letih, ko je natisnil še več knjig se lahko leta pridiganja povečajo na 5000. Če k temu dodamo še ustna navodila in pisma se to poveča na 10 000 let. Natančno moramo omogočiti, da bo to znanje dostopno in pravilno razumljeno in da bo "pridigano" to celotno obdobje.
Ni dvomov o tem da ima Šrila Prabhupad neskončen entuziazem in odločnost v širjenju sporočila Gospoda Caitanye Mahaprabhuja. Čeprav je zapustil telo, še zmeraj obstaja v svojih besedah in z sodobnimi mediji lahko svoje sporočilo razširi še dlje kot takrat, ko je bil fizično prisoten. S popolno odvisnostjo milosti od Caitanye Mahaprabhuja, naj Šrila Prabhupadovo vani-misijo pripravimo za 10 000 pridiganj z večjo odločnostjo kot kadarkoli prej.
V zadnjih desetih letih sem naredil ogrodje in zdaj smo postali večji od Britanskega cesarstva. Celo Britansko cesarstvo ni bilo tako razširjeno kot mi. Oni so imeli samo del sveta, mi pa sploh še nismo končali z razširjanjem. Moramo se razširiti vedno bolj in bolj neomejeno. Moram vam povedati, da sem končal s prevajanjem Šrimad-Bhagavatama. To je najboljši prispevek; knjige so nam omogočile ta položaj. Ljudje nimajo vere v čaščenje v templju ali cerkvi. Ti dnevi so mimo. Seveda moramo ohraniti templje, ker je potrebno, da vzdržujemo visoko zavest. Samo z intelektualizmom ne bomo nič storili, mora biti tudi duhovna praksa.
Naprošam vas, da me vedno bolj in bolj razbremenjujete vodstva, da lahko dokončam Šrimad-Bhagavatam. Če moram vedno opravljati te vloge, potem ne moram delati na knjigah. To je dokument, natančno moram izbrati vsako besedo in če moram ob tem misliti še na vodenje potem to ni možno. Ne morem biti kot tej lopovi, ki nekaj predstavljajo ljudem, da jih zavedejo. Ta naloga ne bo dokončana brez sodelovanja mojih asistentov, GBC-ja, predsednikov templja in sannyasijev. Izbral sem najboljše za delo v GBC in nočem, da so nespoštljivi do predsednikov templja. Vedno se lahko posvetujete z menoj, ampak če je osnoven princip šibek, kako bodo šle stvari dalje? Prosim pomagajte mi pri tem, da lahko prosto dokončam Šrimad-Bhagavatam, ki bo naš večni prispevek svetu. – Srila Prabhupada Letter to All Governing Body Commissioners, 19 May 1976
Šrila Prabhupada pove:"ta naloga ne bo opravljena brez sodelovanja mojih asistentov" da mi pomagajo pri ustvarjanju" večnega prispevka svetu"Šrila Prabhupadove knjige so tiste, ki so nam dale spoštljiv položaj v družbi in so največji prispevek svetu.
Čez leta je veliko BBT bhakt, delilcev knjig, pridigarjev, ki so popolnoma verjeli v Njegove besede in veliko drugih bhakt, ki so želeli razširiti Njegove nauke, opravilo veliko vaniseve. Ampak še zmeraj je veliko dela. S skupnim sodelovanjem z tehnologijo brhat-brhat-brhat mrdanga (Svetovni splet) imamo sedaj priložnost, da zgradimo bazo Šrila Prabhupadovih besed v zelo kratkem času. Naš cilj je, da zgradimo Vani-tempelj do 4. novembra 2027, takrat bomo praznovali skupno 50-letnico. 5o let služenja Šrila Prabhupada v njegovi odsotnosti. To bo zelo primerno in lepo darilo Šrila Prabhupadu in vsem prihodnjim generacijam bhakt.
Vesel sem da ste tiskalne stroje poimenovali Radha stroji. To je zelo razveseljivo. Naj bo vaša Radha press obogatena z deljenjem naših knjig v nemškem jeziku. Zelo lepo ime je. Radharani je najboljša, najboljša sluga Krišne in tiskalni stroj je najboljši pripomoček za služenje Krišni v tem trenutku. Zato dejansko predstavlja Radharani. Ta ideja mi je zelo všeč. – Srila Prabhupada Letter to Jaya Govinda das (Book production manager), 4 July 1969
V 20. stoletju je bil tiskalni stroj uspešen pripomoček za širjenje sporočila mnogih skupin. Šrila Prabhupad je rekel kako so komunisti širili njihov vpliv v Indiji z deljenjem knjig. Uporabil je ta primer z namenom, da ustvari velik propagandni program za zavest Krišne z deljenjem knjig po vsem svetu.
Sedaj, v 21. stoletju, je Šrila Prabhupadova izjavo "najboljši pripomoček za služenje Krišni" mogoče uporabiti v povezavi z širino in efektom širjenja informacij po internetu. V Vanipediji pripravljamo Njegove nauke za svetovni splet. Šrila Prabhupad je izjavil, da je Radha tiskarski stroj od Njegovih učencev v Nemčiji "dejanski predstavnik Šrimati Radharani." Prepričani smo, da bi tudi Vanipedijo smatral za predstavnika Šrimati Radharani.
Zgrajenih je bilo že veliko templjev s strani ISKCON bhakt - sedaj pa zgradimo še tempelj Šrila Prabhupadovih besed. Templji ponujajo darshane z oblikami Gospoda in Vani tempelj bo ponujal darshan z učenji Gospoda in Njegovimi čistimi bhaktami, kot jih je predstavljal Šrila Prabhupad. Delo bhakt ISKCON-a bo postalo bolj uspešno ko bodo Njegovi nauki v pravem in častljivem položaju. Sedaj je izvrstna priložnost za vse Njegove "imenovane asistente" da pomagajo pri grajenju Vani templja in da inspirirajo celotno gibanje, da sodeluje.
Kot veličasten in prelep tempelj, ki se dviga od bregov reke Ganges v Šridham Mayapurju in je usojen za širjenje milosti Gospoda Caitanye po celem svetu, podobno lahko Vani tempelj Šrila Prabhupadovih naukov okrepi ISKCON-ovo misijo, da razširi in ustanovi Šrila Prabhupadovo pravo pozicijo za prihajajočih tisoč let.
Vaniseva – Praktična možnost za služenje
Ko bo Vanipedia dokončana, bodo Šrila Prabhupadovi nauki predstavljeni na način, ki ni bil nikoli uporabljen za razširanje navodil kateregakoli duhovnega učitelja. Vabimo vse, da sodelujejo v tej sveti misiji. Skupaj bomo Šrila Prabhupada izpostavili celemu svetu preko spleta.
Naša želja je, da Vanipedia postane največja enciklopedija Šrila Prabhupadovih naukov v številnih jezikih. To se bo zgodilo le z pravo predanostjo, žrtvovanjem in podporo mnogih bhakt. Čez 1220 bhakt je že sodelovalo v grajenju Vanipedie in njenih prevodih v 93 jezikih. Z namenom, da dokončamo članke, Vaniknjige, prevode in celotno Vanipedie potrebujemo še več podpore s strani bhakt z naslednjimi sposobnostmi in spretnosti:
• Administracija
• Razvijanje učnega načrta
• Oblikovanje in razporejanje
• Finance
• Management
• Promoviranje
• Raziskovanje
• Vzdrževanje serverjev
• Urejanje spletnih strani
• Računalniško programiranje
• Učenje
• Tehnično urejanje
• Urjenje
• Prevajanje
• Pisanje
Vani bhakte nudijo služenje od doma, v templjih, pisarnah ali pa se nam pridružijo za določen čas v Sridham Mayapurju ali Radhadeshu.
Donacije
Zadnjih 12 let je bila Vanipedia financirana z deljenjem knjig preko Bhaktivedanta Library Services a.s.b.l. Da se njena struktura izoblikuje, Vanipedia potrebuje večje financiranje kot ga lahko nudi BLS. Ko bo dokončana, upamo da bo Vanipedia vzdrževana z majhnimi donacijami s strani zadovoljenih obiskovalcev. Za zdaj, da bo dokončana, pa nujno potrebuje finančno pomoč.
Podporniki Vanipedie lahko izbereje naslednje možnosti:
Sponzor:Oseba donira znesek, ki ga želi
Podporoniški pokrovitelj: Donacija vsaj 81 evrov
Vzdrževalski pokrovitelj: Donacija vsaj 810 evrov z možnostjo mesečnih obrokov po 90 evrov.
Razvojni pokrovitelj: Donacija 8,100 evrov z možnostjo letnih obrokov po 900 evrov.
Temeljni pokrovitelj: Donacija 81,000 evrov z možnostjo 9-letnih obrokov po 9000 evrov.
Hvaležni smo - Molitev
Hvaležni smo
Hvala ti Šrila Prabhupada
da si nam dal možnost, da Ti služimo.
Trudili se bomo po najboljših močeh, da Te zadovoljimo v opravljanju Tvoje misije.
Naj tvoji nauki dajo zavetje milijonom srečnih duš.
Dragi Šrila Prabhupada,
prosimo Te opolnomoči nas,
z vsemi dobrimi lastnostni in zmožnosti
in vedno nam pošiljaj
predane bhakte in druge vire,
da uspešno zgradimo Tvoj veličastni Vani-tempelj,
za dobrobit vseh ljudi.
Dragi Šri Šri Panca Tattva,
prosimo pomagajte nam, da postanemo dragi služabniki Šri Šri Radha Madhave
in dragi učenci Šrila Prabhupade in našega Guru Maharaja
s tem, ko nas spodbujate, da delujemo hrabro in pametno
v misiji Šrila Prabhupada
za zadovoljstvo Njegovih bhakt.
Hvala za sprejem teh molitev.
Komentar
Samo z milostjo Šrila Prabhupada, Šri Šri Panca Tattve in Šri Šri Radha Madhave lahko upamo, da bomo kdaj dosegli željeni cilj. Zato neprestano prosimo za Njihovo Milost.