Radharani

Krishna

Caitanya

God

God's Holy Names

Krishna Consciousness Movement

Who Is Srila Prabhupada

his Timeline

Months in his Life

Training his Disciples

Questions

Bhagavad-gita

Devotees of God

Devotional Service to God

Discipleship

Guru / Acharya

Essential Subjects

Nectar Drops

What's in Vanipedia now

Glorious Personalities

Yoga

Collaborate with us to invoke and fully manifest Srila Prabhupada's Vani-presence.
---
Arjuna - a glorious personality
From Vanipedia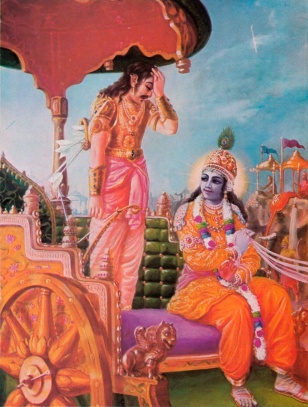 Facts about Arjuna - a Mahajana
Also known as Phalguni - Kapidhvaja
Son of Mahārāja Pāṇḍu and Queen Kuntīdevī (by Indra)
Brother of Yudhiṣṭhira, Bhīmasena, Nakula and Sahadeva
Half-brother of Karṇa (born from the ear of Kunti)
Husband of Subhadrā, Draupadī, Ulupī, Citrāṇgadā
Father of Irāvān (by Ulupī), Babhruvāhana (by Citrāṇgadā), Śrutakīrti (by Draupadī) and Abhimanyu (by Subhadrā)
Grandfather of Mahārāja Parīkṣit
One of the Five Pandavas
Weapons: Gāṇḍīva bow and 2 inexhaustible quivers of arrows from Varuṇa, the Pāśupati-astra from Lord Śiva, the brahmaśira weapon from Dronācārya, brahmāstra and many others
Paraphernalia: a conchshell named Devadatta
Rides upon a chariot (from Varuṇa) bearing a flag marked with Hanumān

Family Tree Legend: h = husband, w = wife, s = son, d = daughter
---
INTRODUCTION TEXT TO BE WRITTEN
 
 
 

HOME

Choose Another
Glorious Personality

 
 
Srila Prabhupada's books, lectures, conversations and letters offer a comprehensive presentation of this essential subject as seen in the Vaniquotes Arjuna category. An introduction to Arjuna from Srila Prabhupada's teachings is given below in the following 10 quotes.
Quotes from Srila Prabhupada's teachings
Arjuna - explore more within this category.
Vanipedia has now over 215 introductory articles compiled from Srila Prabhupada's teachings under the series titled Glorious Personalities. All these articles can be seen in the Table of Content on the right side of this article and also here in this Umbrella Category. Browse through them to relish the breadth and depth of Srila Prabhupada's teachings - There is an attractive personality for everyone.