Radharani

Krishna

Caitanya

God

God's Holy Names

Krishna Consciousness Movement

Who Is Srila Prabhupada

his Timeline

Months in his Life

Training his Disciples

Questions

Bhagavad-gita

Devotees of God

Devotional Service to God

Discipleship

Guru / Acharya

Essential Subjects

Nectar Drops

What's in Vanipedia now

Glorious Personalities

Yoga

Collaborate with us to invoke and fully manifest Srila Prabhupada's Vani-presence.
---
ID/BG 6.28
From Vanipedia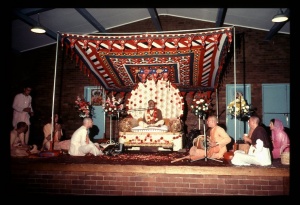 ŚLOKA 28
युञ्जन्नेवं सदात्मानं योगी विगतकल्मषः ।
सुखेन ब्रह्मसंस्पर्शमत्यन्तं सुखमश्नुते ॥२८॥
yuñjann evaḿ sadātmānaḿ
yogī vigata-kalmaṣaḥ
sukhena brahma-saḿsparśam
atyantaḿ sukham aśnute
Sinonim
yuñjan—menekuni latihan yoga; evam—demikian; sadā—selalu; ātmanām—sang diri; yogī—orang yang berada dalam hubungan dengan Diri Yang Paling Utama; vigata—dibebaskan dari; kalmaṣāḥ—segala pencemaran material; sukhena—dalam kebahagiaan rohani; brahma-saḿsparśam—senantiasa berhubungan dengan Yang Mahakuasa; atyantam—tertinggi; sukham—kebahagiaan; aśnute—mencapai.
Terjemahan
Dengan demikian, seorang yogī yang sudah mengendalikan diri dan senantiasa menekuni latihan yoga dibebaskan dari segala pengaruh material dan mencapai tingkat tertinggi kebahagiaan yang sempurna dalam cinta-bhakti rohani kepada Tuhan.
Penjelasan
Keinsafan diri berarti mengetahui kedudukan dasar kita dalam hubungan dengan Yang Mahakuasa. Sang roh yang individual adalah bagian dari Yang Mahakuasa yang mempunyai sifat yang sama seperti Yang Mahakuasa, dan kedudukan makhluk hidup ialah mengabdikan diri kepada Tuhan secara rohani. Hubungan rohani demikian dengan Yang Mahakuasa disebut brahma-saṁsparśa.