Radharani

Krishna

Caitanya

God

God's Holy Names

Krishna Consciousness Movement

Who Is Srila Prabhupada

his Timeline

Months in his Life

Training his Disciples

Questions

Bhagavad-gita

Devotees of God

Devotional Service to God

Discipleship

Guru / Acharya

Essential Subjects

Nectar Drops

What's in Vanipedia now

Glorious Personalities

Yoga

Collaborate with us to invoke and fully manifest Srila Prabhupada's Vani-presence.
---
Vanipedia Email Service
From Vanipedia
Introducing Vanipedia's Email Service: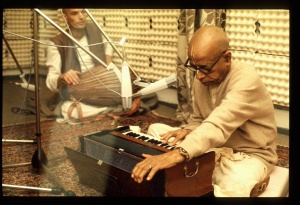 On Sunday 12 March, the auspicious day of Gaura Purnima 2017 and as a fitting way to celebrate our first 10 years we launched a twice-weekly subscription service so that you can receive Vanipedia's storehouse of nectar directly in your inbox. Subscribers receive inspirational quotes from the lotus mouth of our Founder-Acharya's books, lectures, letters and conversations as well as links to categorized topics discussed by Srila Prabhupada.
At Vanipedia we have learned how to dive deep into the ocean of Srila Prabhupada's teachings and bring its jewels to the surface. We have mined Srila Prabhupada's transcendental teachings by a very simple but consistent process:
Searching
Hearing
Copying and
Indexing.
This dynamic process has brought about very powerful results.
This has been an exciting and adventurous journey, on which we have mined many rare and precious gems lying within the transcendentally realized teachings of Srila Prabhupada. These jewels are placed within Vanipedia, where devotees can access them whenever they like.
Now these jewels can reach you daily via your inbox via our Subscription Service, Srila Prabhupada's teachings from Vanipedia can be delivered daily to your door.
Sign up today for our free, new, and assorted offerings from Vanipedia's storehouse of nectar.
Relish them and share them!
Join NOW!
Your committed servant of Srila Prabhupada's Vani,
Visnu Murti dasa
Please Enter your Email Address & Hit Subscribe to Sign up Now