Radharani

Krishna

Caitanya

God

God's Holy Names

Krishna Consciousness Movement

Who Is Srila Prabhupada

his Timeline

Months in his Life

Training his Disciples

Questions

Bhagavad-gita

Devotees of God

Devotional Service to God

Discipleship

Guru / Acharya

Essential Subjects

Nectar Drops

What's in Vanipedia now

Glorious Personalities

Yoga

Collaborate with us to invoke and fully manifest Srila Prabhupada's Vani-presence.
---
ES/BG 18.63
From Vanipedia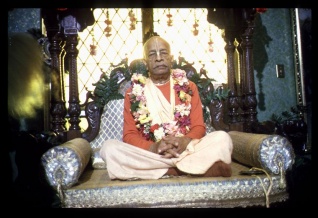 TEXTO 63
इति ते ज्ञानमाख्यातं गुह्याद्गुह्यतरं मया ।
विमृश्यैतदशेषेण यथेच्छसि तथा कुरु ॥६३॥
iti te jñānam ākhyātaṁ
guhyād guhyataraṁ mayā
vimṛśyaitad aśeṣeṇa
yathecchasi tathā kuru
PALABRA POR PALABRA
iti — así pues; te — a ti; jñānam — conocimiento; ākhyātam — descrito; guhyāt — que confidencial; guhya-taram — aún más confidencial; mayā — por Mí; vimṛśya — deliberando; etat — acerca de esto; aśeṣeṇa — completamente; yathā — como; icchasi — gustes; tathā — eso; kuru — ejecuta.
TRADUCCIÓN
Así pues, te he explicado un conocimiento aún más confidencial. Delibera bien acerca de esto, y luego haz lo que desees.
SIGNIFICADO
El Señor ya le ha explicado a Arjuna el conocimiento acerca del brahma-bhūta. Aquel que se encuentra en la condición brahma-bhūta, es dichoso; él nunca se lamenta, ni desea nada. Eso se debe al conocimiento confidencial. Kṛṣṇa también revela el conocimiento acerca de la Superalma. Eso también es conocimiento Brahman, conocimiento acerca del Brahman, pero es superior.
Aquí, las palabras yathecchasi tathā kuru —"haz lo que gustes"— indican que Dios no se interfiere en la poca independencia de la entidad viviente. En el Bhagavad-gītā, el Señor ha explicado en todos los aspectos cómo puede uno elevar sus condiciones de vida. El mejor consejo que se le impartió a Arjuna es el de entregarse a la Superalma que se encuentra en su corazón. Mediante el debido discernimiento, uno debe acceder a actuar de conformidad con las órdenes de la Superalma. Eso lo ayudará a uno a situarse siempre en el plano de conciencia de Kṛṣṇa, la etapa más elevada y perfecta de la vida humana. La Personalidad de Dios le está ordenando a Arjuna directamente que pelee. El entregarse a la Suprema Personalidad de Dios va en beneficio de las entidades vivientes. No es algo que se hace por el bien del Supremo. Antes de entregarse, uno es libre de deliberar acerca de ese asunto hasta donde lo permita la inteligencia; ésa es la mejor manera de aceptar la instrucción de la Suprema Personalidad de Dios. Esa instrucción también viene a través del maestro espiritual, el representante genuino de Kṛṣṇa.