Radharani

Krishna

Caitanya

God

God's Holy Names

Krishna Consciousness Movement

Who Is Srila Prabhupada

his Timeline

Months in his Life

Training his Disciples

Questions

Bhagavad-gita

Devotees of God

Devotional Service to God

Discipleship

Guru / Acharya

Essential Subjects

Nectar Drops

What's in Vanipedia now

Glorious Personalities

Yoga

Collaborate with us to invoke and fully manifest Srila Prabhupada's Vani-presence.
---
Garuda - a glorious personality
From Vanipedia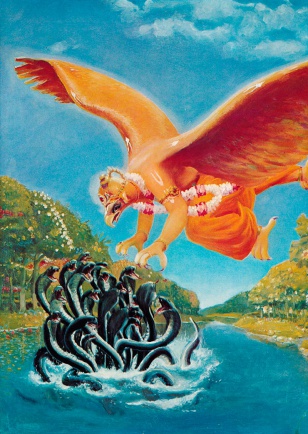 Facts about Garuḍa - bird carrier of the Supreme Lord
Also known as Suparṇa
Greatgrandson of Brahmā
Grandson of Marīci and Kala (daughter of Kardama Muni)
Son of Kaśyapa Muni and Vinatā - (daughter of Dakṣa}
Brother of Anuru (the chariot driver of the sun-god)
Stepbrother of Kāliya
Incarnation of the Brahman feature of the Lord
Inhabitant of the planet known as Kinnaraloka

Family Tree Legend: h = husband, w = wife, s = son, d = daughter
---
INTRODUCTION TEXT TO BE WRITTEN
 
 
 

HOME

Choose Another
Glorious Personality

 
 
Srila Prabhupada's books, lectures, conversations and letters reveal the qualities of this essential subject as seen in the Vaniquotes Garuḍa category. An introduction to Garuḍa from Srila Prabhupada's books is given below in the following 10 quotes.
Quotes from Srila Prabhupada's books
Garuḍa - explore more within this category.

Vanipedia has now over 215 introductory articles compiled from Srila Prabhupada's teachings under the series titled Glorious Personalities. All these articles can be seen in the Table of Content on the right side of this article and also here in this Umbrella Category. Browse through them to relish the breadth and depth of Srila Prabhupada's teachings - There is an attractive personality for everyone.